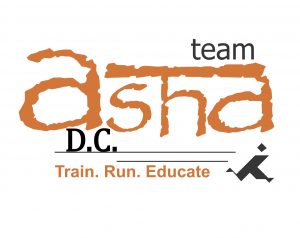 To participate in the Team Asha DC program, please contact Kapil Chokawala.
Click here to donate via Team Asha DC runners.
Click here to donate via Asha DC members.
Team Asha DC 2017 is the DC counterpart of Team Asha's premier sports training program. In collaboration with the Marathon Charity Cooperation, it provides personalized coaching, motivation and support for individuals with the goal to participate in long runs, ranging from 5Ks to a half or full marathons.
Program highlights:
Extensive training for long-distance running/walking

Expert coaches driving speed, strength and cross-training workouts

Workshops on apparel, nutrition, and equipment

..and many fun events
Facts about Team Asha participants:
Team Asha comprises of various professionals in the hi-tech industry, doctors, lawyers, educators, students, home-makers and accomplished athletes.

One does not have to be an accomplished athlete, or at peak fitness level to join the team. In fact, over 70% of Team Asha runners are new to running or any form of endurance sports.

Roughly 40% of Team Asha athletes are women.

Our runners and walkers range from 22 to over 60 years of age.

Success rate of over 99% with athletes who have completed the training program.
Train with us and help support educational initiatives for underprivileged children in India.
What does the Team Asha DC training program provide?
A comprehensive marathon-training package (for full and half marathons) conducted by professional, experienced coaches.
The opportunity to draw from the experience of coaches and past runners.
The opportunity to network with past marathoners and fellow runners in the local community.
The opportunity to discuss ideas with past participants and people who have raised funds.
Clinics on running techniques, injury prevention and diagnosis, gear selection, etc.
Nutrition clinics (how to train your body to burn energy over sustained periods of time).
Track workouts
A customized runner's profile page that:

tells visitors who the runner is and the motivations for their participation
helps create community among the program participants
serves as 'go to' place for those wishing to donate to Asha, in lieu of supporting the Team Asha DC participants
Meet the Team Asha DC runners (click on the name)
To donate via Team Asha DC participants (click on the name)